Rich Countries Often Fail to Bolster Well-Being, Boston Consulting Says
Sub-Saharan Africa and Emerging Asia lead the pack over an 8-year term in improving its citizens lives, while Western Europe remains at the top of the current index
With economic growth trending downward globally, many of the world's largest economies are not converting what growth they have left into an increase in well-being for their citizens, according to a report by the Boston Consulting Group.
The SEDA, or Sustainable Economic Development Assessment ranks more than 160 countries across 10 areas including economic stability, health, governance and environment. It uses two measures, the first a current score taking into the most recent data and a rolling score that assesses how countries can convert economic growth into well-being over an eight year period from 2006 to 2014.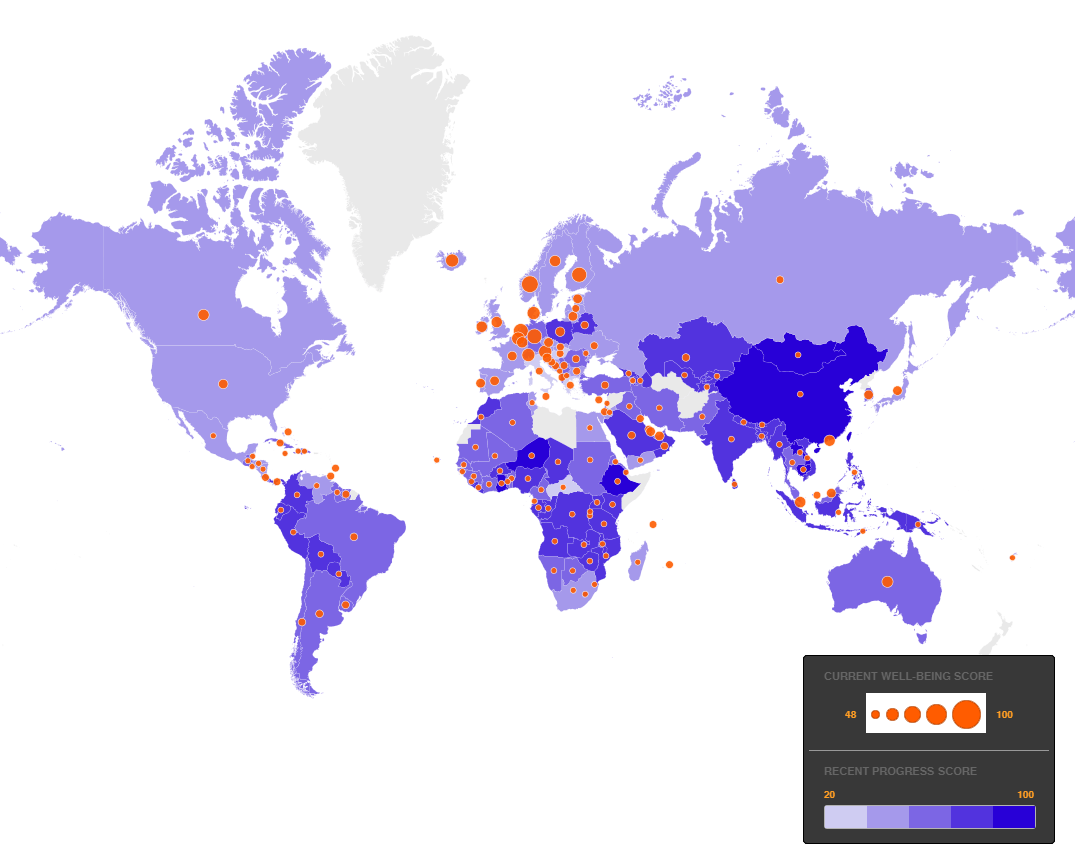 Ethiopia is at the top of list of countries that managed to convert growth to well-being since 2006 with Norway at the top of the list for the most recent data, according to Boston Consulting. The stark contrast between these two countries sets the trend for the two lists in some respects. Norway is ranked sixth globally in terms of gross domestic product per capita and Ethiopia is ranked 169th out of 187, according to the most recent IMF outlook.
At the top of the current score list, the similarities among the various countries are obvious and include many of the world's wealthiest nations — Switzerland, Sweden, Luxembourg and Singapore. There is an almost opposite result in the recent progress score, where many emerging markets in Asia and Africa have risen to the top and the nations considered to be the wealthiest in terms of GDP are closer to the bottom.
The Boston Consulting Group also calculates what it calls the wealth-to-well-being and growth-to-well-being coefficients.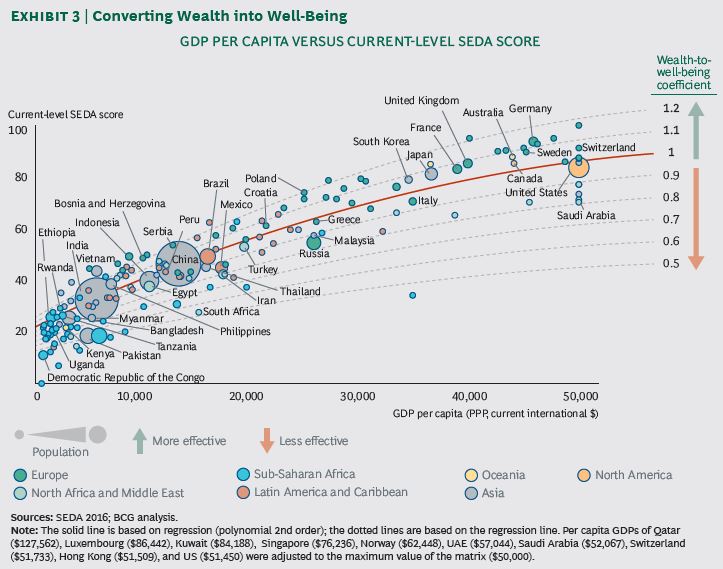 Two ratios are looked at. There is one between the current SEDA score and the score that would be expected given the country's GDP per capita (wealth-to-well-being) and the one between the recent progress SEDA score and the score that would be expected given the country's GDP growth (growth-to-well-being). That way it's easy to tell what countries are above and below par, globally.
The United States' ability to convert both wealth and growth into well-being is below par globally, while Germany manages to perform above par on both fronts. In Western Europe, countries with high current SEDA scores (Austria, Denmark, Finland, Germany, Netherlands) are making far better progress than those with low current SEDA scores (Cyprus, France, Greece, Italy, Malta, Portugal, Spain). This is especially reflected in the labor market, where above-average unemployment rates put pressure on the economy.